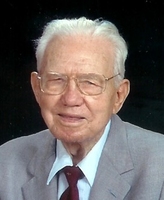 Roy Rusk Carrington, 93, of Fulton, died Monday, April 7, 2008, at the Fulton Nursing & Rehab Center.
He was born Oct. 5, 1914, in Guthrie, MO, the son of the late Orvis Alexander and Lucy Erna (White) Carrington. In Dec. 1941, he married Pauline Thomasson. She preceded him in death on April 2, 1979. He later married Virginia Wise Young in June 1980 and she preceded him in death on Dec. 23, 2002.
He is survived by two sons, Roy Lynn Carrington of Carrington, MO and Carlton Young and his wife Arline of Hermann, MO; one daughter, Betty Salmons of Fulton; five grandchildren, Drew Alexander Carrington and Clayton Tyler Carrington both of Columbia, MO, and Becky Pendergraft & husband Coy of the state of Kansas, Kevin Young and wife Tracy of Ft. Worth, TX, and Mark Salmons of Fulton; and five great-grandchildren.
He served his country in the US Navy. He had worked for 34 years as a Purchasing Agent for the Danuser Machine Company in Fulton. Roy was an inventor and acquired two patents for his work. He was well known for his "Spinner" that he made out of 2-liter bottles for Kingdom Days and donated the proceeds to "Festival Of Sharing" at First Christian Church. He also had musical talent and could play the fiddle, guitar, banjo, organ, piano and the harmonica with the Callaway Combo Band. He played on the first radio shows in Central MO during the 1930's as well as for many country dances thereafter. He composed music and some of his music was published. He was an active member of the First Christian Church.
Memorial services will be held at 11:00 A.M., Saturday, April 19, at the Debo Funeral Home in Fulton with Pastor Bruce Williamson officiating. Family will receive friends on Saturday from 10:00 A.M. until time of services at the funeral home.
Memorials are suggested to "Festival Of Sharing" First Christian Church, c/o Debo Funeral Home, PO Box 818, Fulton, MO 65251. - obituary from Debo Funeral Home, Fulton, Missouri.