John B. Herring was my 3rd great grandfather. He was a son of Benjamin Herring and Nancy Hill, a grandson of Henry Hill and Susanna Jones.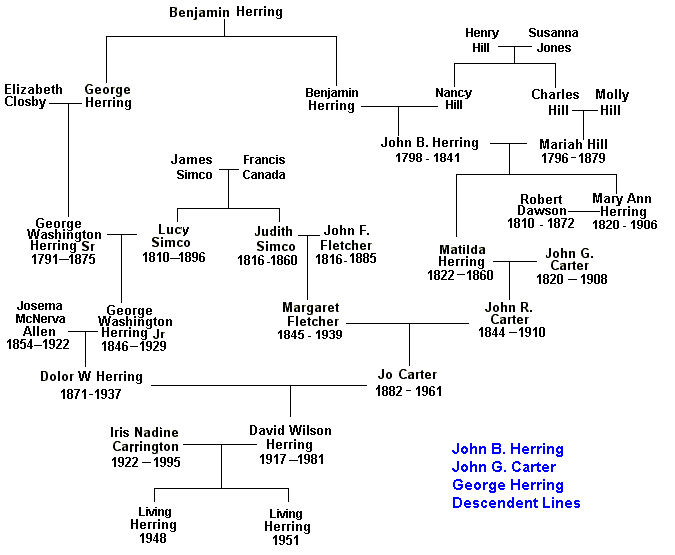 There is a note that was written by my grandfather, Dolor W. Herring, on December 5th, 1926, that says in part:
"This Pocket Book was the property of John B. Herring, who was one of the pioneers. Mrs. Margaret A. Carter, the wife of John R. Carter, now deceased some 15 years, gave it to me March 1925. John B. Herring was the Grandfather of John R. Carter. John B. Herring was a cousin of my Grand-father George Washington Herring, both of whom came to Missouri, in 1825.".
(I have since found records that show it was 1931 when John B. and his father Benjamin moved to Missouri, and 1835 when George W. Herring moved. We do have evidence that the two of them did come in 1825 to scout out the land)

John B. Herring was born in in Albemarle Co., Virginia. We are not sure of the exact year, but from other records it appears to be in 1798. On November 10, 1819, he married his 1st cousin, Mariah Hill, daughter of Charles Hill and Molly Hill.

Marriage record from the Albemarle Co. records
Herring, John & Maria Hill 10 Nov 1819; min-John Goss, 11 Nov 1819 [Marr. Reg., 1806-1868, fol.25) [B/C Papers, 1813-27] b-Charles Hill (father) who gives his consent and who also affirms John over 21 wit-Alexander Garrett

Mariah's father, Charles Hill was a son of Henry and Susanna Hill, and the brother of Nancy Hill who married Benjamin Herring, John B.'s parents.

Marriage record from the Albemarle Co. records
Hill, Charles & Molly Hill 30 Dec 1795; b-John Hill [Rec. of Marr. Bonds, 1780-1806] wit-Francis Anderson

Mariah Hill was born in 1796 in Albemarle Co. Va. Her name has also been found as Mary, Maria, and Marian. Her real name was Mariah, I have copies of her signature.

Mariah had a brother, Morgan Hill, who also came to Callaway County about the same time. Morgan Hill married Nancy Scrogham of Virginia, on July 28, 1846 in Callaway Co. Missouri. Mariah also had a brother named Charles Hill who came to Callaway County with John and Mariah. He was living with them on the 1940 census. He was born about 1818 in Albemarle Co., Virginia. He later married Sarah J. Tatum. Sarah Tatum was John B.'s niece, daughter of his sister Mary Herring Tatum.

John B. and Mariah Hill Herring had two daughters:
Matilda J. Herring (born January 28, 1822 in Albemarle Co. Mo.

married John G. Carter, September 7, 1842

Mary Ann Herring (born abt. 1820 in Albemarle Co. Mo.

married Robert H. Dawson, November 3, 1842

John B. Herring died in Callaway Co., Missouri in 1841. He is buried in the Herring Carter private cemetery, which was located on his land.

This cemetery has since been destroyed. Also known burials at this cemetery were his wife Mariah, his daughter Matilda Herring Carter, an infant son of John G. and Matilda Carter, another son of John G. and Matilda Carter; Thomas H. Carter, an infant grandson of John G. and Matilda Carter named William Ricken Grogan, and a sister of John B. Herring; Mary A. Herring Tatum, who was the wife of Thomas Tatum.

This cemetery was recorded in 1933 by the local DAR chapter, but was in bad shape at that time. When they tried to find it again in the 1983, it had been destroyed. The above names were found in 1933. I made a trip to Missouri in Sept. of 2005. We found the cemetery, but there is nothing at all there anymore. You can tell by the indentions in the earth that there were graves, however there are no headstones. If the State of Missouri doesn't do something soon to protect the old cemeteries, they will all end up like this. How hard can it be for the land owners to simply put up a wire fence around the cemeteries on their land to keep the livestock from knocking over and breaking the stones? How can anyone simply ignore the fact that there are people buried on their land and either by neglect or on purpose, destroy these burial grounds?

We also believe that Benjamin Herring, father of John B. and Thomas T. Tatum, husband of Mary Herring are also buried here. There may be others, lost forever.

By 1842, both of John B. and Mariah's daughters were married. On July 6, 1843 Mariah married Ezra Sitton. Mr. Sitton was a 47 year old widower with 4 children still at home, Mariah was also 47. He was a son of Jeffery and Polly Bostick Sitton of North Carolina and later Tennessee.

Ezra had a brother, John Sitton, who married and had a son, Isaac N. Sitton. Isaac married Sarah Jane Fletcher who was a sister of Margaret Fletcher, who married John R. Carter, who was a grandson of Mariah Hill Herring. Sarah and Margaret Fletcher's parents were John F. and Judith Simco Fletcher. Judith Simco was a sister of Lucy Simco who married George Washington Herring.... who was the first cousin of John B. Herring, and the grandfather of Dolor Herring who married Jo Carter (my grandparents).... who was the daughter of Margaret Fletcher Carter and John R. Carter.

If you had trouble following the above paragraph.... you are not alone.

Ezra Sitton died in Callaway County, Mo., on June 12, 1855.

On February 22, 1857 Mariah Hill Herring Sitton married Thomas G. Dulin. She was 61 years old. Mr. Dulin was born April 20,1800 in Kentucky. On the 1870 census, Mariah and Thomas Dulin were still living on his farm in Fulton Township.

Thomas Dulin died on March 30, 1881 in Callaway Co., Missouri. Mariah died on January 28, 1879 and is buried next to John B. Herring.

Callaway Weekly Gazette death notices
DULIN - On January 25th, 1879 at the residence of Mrs. Mary A. Dawson, Mrs. Maria Dulin, aged about 85 years. Jan 31, 1879
Death of an Aged Lady
Mrs. Mariah Dulin, wife of Mr. Thos. G. Dulin, died at her daughter's (Mrs. Mary Dawson) residence, near this city on Saturday January 25, 1879, aged about 91 years. She was raised in Albemarle County Va. and came to this state in 1831. She has been married three times. Her first husband was John B. Herring, her second husband was Ezra B. Sitton, both dead. Her present husband is now in a helpless condition, unable to leave his bed. She was a member of the Old Baptist Church for many years. She only leaves one child, Mrs. Mary Dawson, but many relatives to mourn her death.

obit - Callaway Weekly Gazette, Apr 8, 1881
At his residence near Unity church on March 30, 1881, Thomas Dulin, aged 80 years, 4 months and 10 days. He emigrated to Gasconade county, this State, from Kentucky, in 1836 and moved to Callaway county three years after --