Ozie (Vernon) Waters was my 1st cousin once removed. His mother, Mayme Herring Waters was the sister of my grandfather, Dolor Herring.

Ozie was a grandson of George Washington Jr. and Josema Allen Herring, and James White Waters and Susan Francis Love.

Ozie was born Vernon Scott Waters in Callaway County, Missouri on December 8, 1903. He was a son of Scott Waters and Mayme May Herring. He grew up on a farm in St Aubert Twp., Callaway Co. Missouri, near the town of Fulton. Vernon first married Adelle, about 1929. She was born abt. 1911 in New Mexico. He next married Evangeline Baird. They had three daughters, Darlene, Melody, and Gloria. Vernon was in 16 cowboy movies in the 1940's and later moved to Colorado where he hosted the Capt. Ozie Waters children's TV show. He had a long musical career, providing music in movies, on radio, TV, and records. He died on March 10, 1978 in Colorado.

| | | |
| --- | --- | --- |
| | Signed pictures of Ozie Waters, now in possession of Scott Herring. Click on the small picture to see the full size pictures. | |

Interview from the website b-westerns.com


(Courtesy of Melody Waters)





(Courtesy of Melody Waters)


Above, William 'Hopalong Cassidy' Boyd was Ozie's guest on top of the carousel at Elitch Gardens in Denver Colorado, circa 1950. 30,000 kids that were members of Ozie's Junior Ranger Club showed up.
Ozie Waters (and his Colorado Rangers) did musical support from about 1944-1950 in a dozen or more oaters --- he worked with Charles Starrett at Columbia and William Boyd in the Hopalong Cassidy releases via United Artists.

I asked Melody Waters, Ozie's daughter, to put together a bio on her father. Melody writes:

Ozie was born Vernon Scott Waters in Callaway County, Missouri on December 8, 1903.

At the age of 14, and standing 5' 11", he joined the Navy and was around the world by the time he was 19. He left the Navy standing 6' 3 1/2" tall and had already started his radio career in Hawaii.

He got the title 'Captain' when the Governor of Colorado commissioned him with the honorary title of 'Captain of the Colorado Rangers'.

He married Evangeline Baird and had three daughters who grew up singing with him --- Darlene, Melody and Gloria. Darlene made a picture for Walt Disney, SO DEAR TO MY HEART (1949), before they left Hollywood. Ozie Waters passed away from a heart attack on March 10, 1978.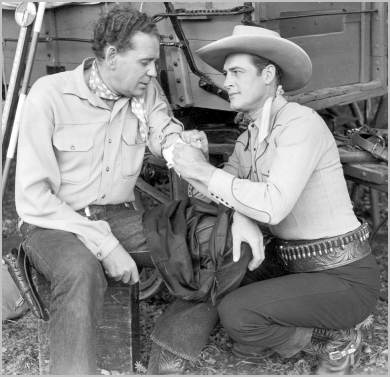 (Courtesy of Melody Waters)


Above is Ozie being tended by Charles Starrett in a scene from LANDRUSH (Columbia, 1946), one of the Durango Kid adventures.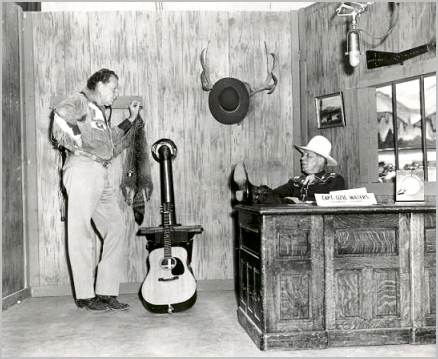 (Courtesy of Melody Waters)


Above, Ozie is wearing the buckskins on the far left and guest Hoot Gibson is sitting at the desk during a break on Ozie's KBTV show, Denver, Colorado, circa 1954. In the top left of the photo, you can see where the wall ends on the set. The microphone is in the upper right. He had a Junior Ranger club on KBTV and there were 40,000 kids who were members and got an official card.

Christmas card sent to a Herring family member, probably mid 1940's.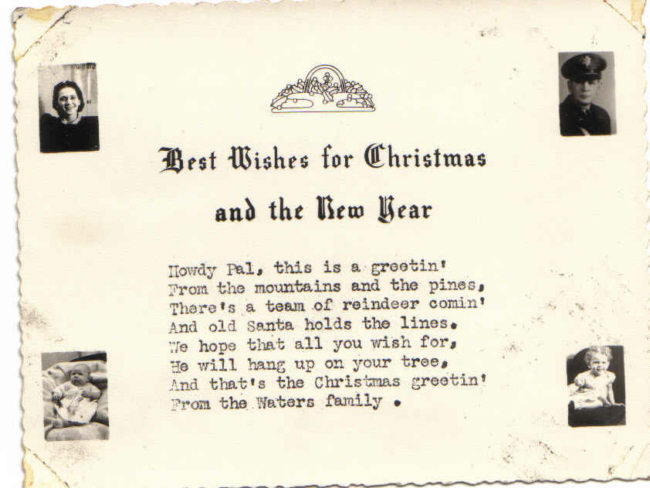 Click here for a clip of a song, Throw A Saddle On A Star. A song by Ozie Waters and Hank Caldwell, recorded by Ozie with the Plainsmen and featuring a steel guitar solo by Joaquin.

This is an article that ran in the Denver Post Sunday Magazine section, March 20, 1977. Click on the small images to see the full size one and read the article.



| | | |
| --- | --- | --- |
| Article part 1 | Article part 2 | Article part 3 |
| | | |
| --- | --- | --- |
| Photo from Ozie Waters article | Photo from Ozie Waters article | Photo from Ozie Waters article |
| | | |
| --- | --- | --- |
| Article part 4 | Article part 5 | Article part 6 |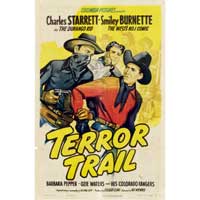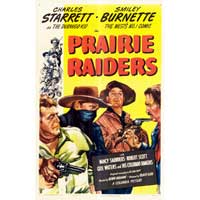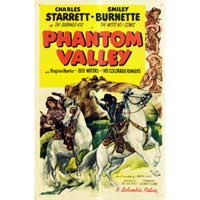 Ozie Waters appeared in most of the Durango Kid movies. A few reviews I found online of some of Ozie's 16 movies:

Cowboy from Lonesome River 1944 - USA - Musical Western PLOT DESCRIPTION This western features a singing cowboy, a brave hero, and a bumbling sidekick who band together to defeat a ruthless range boss. ~ Sandra Brennan, All Movie Guide CAST FOR 'Cowboy from Lonesome River' Ozie Waters Foy Willing Jimmy Wakely Craig Woods John Tyrrell Dub Taylor Charles Starrett Jack Rockwell Kenneth MacDonald Ian Keith Bud Geary Steve Clark Vi Athens
*****************
Phantom Valley 1948 - USA PLOT DESCRIPTION Someone is stirring things up between the ranchers and the homesteaders in Phantom Valley and Marshal Steve Collins (Charles Starrett) is assigned to look into matters. The situation becomes even more critical when one of the nesters, Jim Durant (Sam Flint), is abducted after having withdrawn the group's money from the local bank. But who is behind the crimes? Is it elderly attorney Sam Littlejohn (Joel Friedkin), whose cane has a highly unusual double purpose? Or is the secret menace Bob Reynolds (Robert Filmer), the head of the ranchers' association? Despite the unwanted assistance by correspondence-course detective Smiley Burnette), Steve, alias The Durango Kid, manages to get goods on the mystery villain. In between muddling up the investigation and feuding with young apple-munching Chips (Teddy Infuhr), Smiley Burnette performs "I'll Be Glad to See You" while Ozie Waters and His Colorado Rangers take care of "Streets of Laredo (The Cowboy's Lament" and "The Big Corral. ~ Hans J. Wollstein, All Movie Guide Charles Starrett - The Durango Kid Charles Starrett - Steve Collins Smiley Burnette - Himself Virginia Hunter - Yancey Littlejohn Sam Flint - Jim Durant Joel Friedkin - Sam Littlejohn Robert Filmer - Bob Reynolds Mikel Conrad - Crag Parker Fred Sears - Ben Theibold Colorado Rangers - Themselves Ozie Waters - Ozie Waters Jerry Jerome - Bart Matty Roubert - Henchman Zon Murray - Frazer Teddy Infuhr - Chips
***************
Mystery Man 1944 - USA - B - Western PLOT DESCRIPTION An above-average entry in the long-running Hopalong Cassidy Western series, the enigmatically titled Mystery Man opens with Hoppy (William Boyd), California Carlson (Andy Clyde), Jimmy Rogers, and the Bar 20 cowboys driving a herd of cattle to the Circle J. Ranch, whose owner, Tom Hanlon (Bob Burns), is to pay cash on delivery. In the town of Holbrook, however, the Bar 20 crew interrupts a bank robbery committed by the notorious Trilling gang whose boss (Don Costello) remains a mystery man. Not even the shrewd Hoppy is able to detect anything wrong with the inquisitive dude, who commends him for foiling the robbery. The dude, alias Trilling, manages to spring his henchmen from jail and then concocts a plan to steal the Bar 20 cattle en route to the Circle J. Despite strong resistance from Hoppy and his friends, Trilling does manage to drive the cattle to the Circle J where he presents himself as Hoppy. The real Hopalong Cassidy, meanwhile, is imprisoned by Sheriff Newhall (Taylor Homes), who accuses him of being Trilling. But the sheriff's daughter, Diane (Eleanor Stewart), who once rescued Jimmy from a would-be killer, knows otherwise and manages to free the Bar 20 cowboys. With the sheriff's posse hot on their trail and Diane acting as a decoy, Hoppy and his men force the Trilling gang into a box canyon and a final shootout. ~ Hans J. Wollstein, All Movie Guide William Boyd - Hopalong Cassidy Andy Clyde - California Carlson Jimmy Rogers - Himself Don Costello - Bud Trilling Francis McDonald - Bert Rogan Forrest Taylor - Sheriff Sam Newhall Eleanor Stewart - Diane Newhall Jack Rockwell - Marshal Ted Blane Ozie Waters - Tex William Hunter - Joe Robert Burns - Tom Hanlon George Morrell - Townsman Art Mix - Bank Robber John Merton - Bill Pierce Lyden - Red Hank Bell - Deputy Ed Bob Baker - Bar 20 Hand
****************
Sagebrush Heroes 1945 - USA no review CAST FOR 'Sagebrush Heroes' Paul Zaremba Ozie Waters Elvin Field Jimmy Wakely Constance Worth John Tyrrell Dub Taylor Forrest Taylor Charles Starrett Eddie Laughton Bobby Larson Joel Friedkin Lane Chandler
***************
Outcast of Black Mesa 1950 - USA PLOT DESCRIPTION Charles Starrett is back as the masked do-gooder known as The Durango Kid in Columbia's Outcasts of Black Mesa. The plot follows the time-honored pattern established by previous Starrett vehicles. Once again, Our Hero is accused of a crime he didn't commit. Once again, he breaks jail to find the real culprits. And once again, he dons his Durango Kid disguise, whereupon stunt-double Jock Mahoney swings into action. Outcasts of Black Mesa is distinguished by the presence of a relative newcomer to the film game, leading lady Martha Hyer. This "new" film is actually comprised of a handful of freshly shot sequences, spliced together with scads of stock footage from earlier "Durango Kid" entries. (a common practice at Columbia, as witness all those look-alike "3 Stooges" comedies). ~ Hal Erickson, All Movie Guide Charles Starrett - Steve Norman/The Durango Kid Smiley Burnette - Himself Martha Hyer - Ruth Dorn Richard Bailey - Andrew Vaning Stanley Andrews - Sheriff Grasset William Haade - Dayton Lane Chandler - Ted Thorp William Gould - Walt Dorn Bob Wilke - Curt Chuck Roberson - Kramer Ozie Waters - Kramer
***************
Prairie Raiders (1947) Plot Summary for Prairie Raiders (1947) Government Agent Steve leases land to Masters so he can bring in horses for the Army. Henley has obtained a forged lease for the same land and Steve is unable to prove it's a fake. While Steve checks with Washington, Henley plans to roundup and ship the horses. Masters also intends to roundup the horses and he has the Durango Kid on his side in the battle with Henley. Credited cast: Charles Starrett .... Steve Bolton/The Durango Kid Smiley Burnette .... Smiley Nancy Saunders .... Ann Bradford Robert E. Scott .... Bronc Masters (as Robert Scott) Ozie Waters .... Ozie Ozie Waters and His Colorado Rangers .... Western Band Hugh Prosser .... Henley Lane Bradford .... Henchman Stark Ray Bennett .... Henchman Flagg Douglas D. Coppin .... Hotel Clerk Briggs (as Doug Coppin) Steve Clark .... Sheriff Tommy Coats .... Henchman Shorty (as Tom Coats) Frank LaRue .... Bradford John L. Cason .... Henchman Cinco (as Bob Cason) ***************
LANDRUSH (1946 Columbia)**
The lawless section known as The Spur is a haven for outlaws until it is thrown open by the government as free land for homesteaders. Supposedly respected businessman Stephen Barclay and his range rats (Bud Geary, George Chesebro, Bob Kortman, Ted French) do all they can to dissuade the homesteaders from moving in. It's up to government land surveyor Charles Starrett (aka The Durango Kid) to insure a free and open land run. He's helped by feisty newspaper editor Emmett Lynn and his daughter Doris Houck, Smiley Burnette and singing homesteaders Ozie Waters and his Colorado Rangers.

This musical group was one of the best the Starrett films ever offered, and Columbia used them in six Durangos. Ozie was born Vernon Scott Waters in Callaway County, MO, December 8, 1903. He was only a teenager when he joined the Navy during WWI and started his radio career in Hawaii. Forming the Colorado Rangers, Ozie wrote some music for and appeared in a couple of Hopalong Cassidy films in '44 (LUMBERJACK, MYSTERY MAN) followed by two Starrett pre-Durangos (COWBOY FROM LONESOME RIVER, SAGEBRUSH HEROES). For LANDRUSH, the first of six Durangos between '46-'50, 6' 3" Ozie has a nice role and sings three traditional songs with his group - an engaging version of "Nellie Gray" and ear-catching versions of "Camptown Races" and "Oh Susannah". Ozie's deep, melodic voice was one of the best in westerns. He returned to Colorado where he appeared on TV and quite often at Elitch Gardens. His Junior Ranger Club numbered over 30,000. His three daughters grew up singing with Ozie, and daughter Darlene was featured in Disney's SO DEAR TO MY HEART ('49). Ozie died of a heart attack March 10, 1978. Stock footage from LANDRUSH showed up in STREETS OF GHOST TOWN ('50).
**Landrush film review is copyright ©2000-2005 by Boyd Magers. All rights reserved